Radalette
You found an Easter Egg!
Roulette Game by Chris Keller
How to play:

1.) Click here to download and print your roulette table.
2.) Make sure you understand the rules, found here.
3.) Place your bets on the table using pennies, peanuts, or pocket lint.
4.) Give the wheel a spin using the button below.


Good luck - and thanks for choosing Radalink Radon Monitors!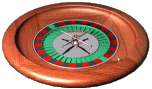 >